We assume, you have variable products on your WooCommerce store and you want to grow your sales.
But, you don't know what is the first step to increase sales in your online store.
The step is to impress your potential customers visually. You must optimize your store and product pages to do so.
You'll notice that the shop page is too plain to attract customers in the best way.
On the other hand, you sell different variation attributes such as color, image, or size on your WooCommerce store. It's difficult for you to showcase all of the product variations you offer.
That's why you need a Variation Swatches plugin for your WooCommerce shop.
WooCommerce Variation Swatches is a simple plugin to change the basic dropdown selection of variants to button, color, image, and radio swatches easily.
List of Best WooCommerce Swatches plugin
There are many Variation Swatches plugins available on the WordPress repository and search engine.
In this guide, we'll step through some of the most popular WooCommerce variation swatches plugins.
Let's get started…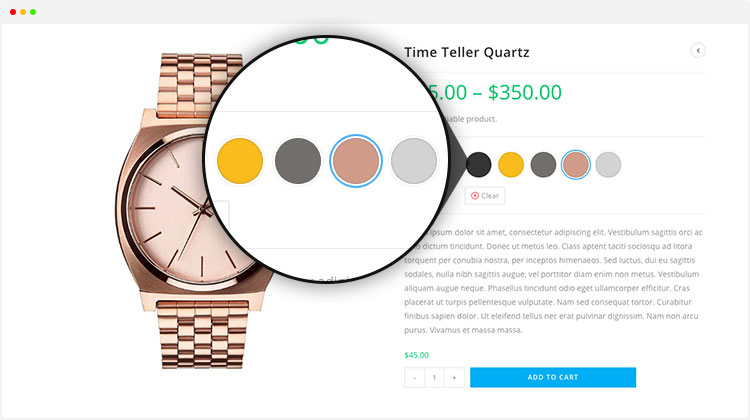 The first plugin we have on our list is the WooCommerce Variation Swatches plugin by GetWooPlugins.
This color swatches plugin replaces default dropdown fields on your variable products with beautiful swatches including button, color, image, label, and radio button.
It is the best WooCommerce swatches plugin with 200K+ active installations on WordPress plugin directory, 350+ five-star ratings, and 2M+ total downloads.
The color swatches plugin provides a much nicer way to display product variations, available styles, available sizes, or anything else you can display using color, image, and radio buttons. Continue reading