We assume, you have variable products on your WooCommerce store and you want to grow your sales.
But, you don't know what is the first step to increase sales in your online store.
The step is to impress your potential customers visually. You must optimize your store and product pages to do so.
You'll notice that the shop page is too plain to attract customers in the best way.
On the other hand, you sell different variation attributes such as color, image, or size on your WooCommerce store. It's difficult for you to showcase all of the product variations you offer.
That's why you need a Variation Swatches plugin for your WooCommerce shop.
WooCommerce Variation Swatches is a simple plugin to change the basic dropdown selection of variants to button, color, image, and radio swatches easily.
List of Best WooCommerce Swatches plugin
There are many Variation Swatches plugins available on the WordPress repository and search engine.
In this guide, we'll step through some of the most popular WooCommerce variation swatches plugins.
Let's get started…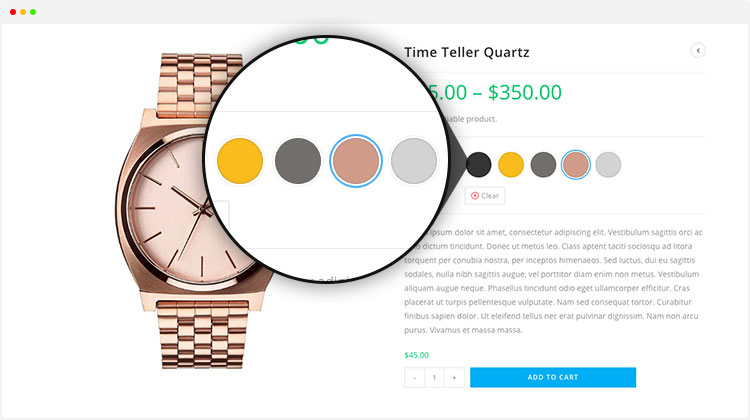 The first plugin we have on our list is the WooCommerce Variation Swatches plugin by GetWooPlugins.
This color swatches plugin replaces default dropdown fields on your variable products with beautiful swatches including button, color, image, label, and radio button.
It is the best WooCommerce swatches plugin with 200K+ active installations on WordPress plugin directory, 350+ five-star ratings, and 2M+ total downloads.
The color swatches plugin provides a much nicer way to display product variations, available styles, available sizes, or anything else you can display using color, image, and radio buttons.
It also lets you display the variation swatches in the product catalog and archive pages of your store.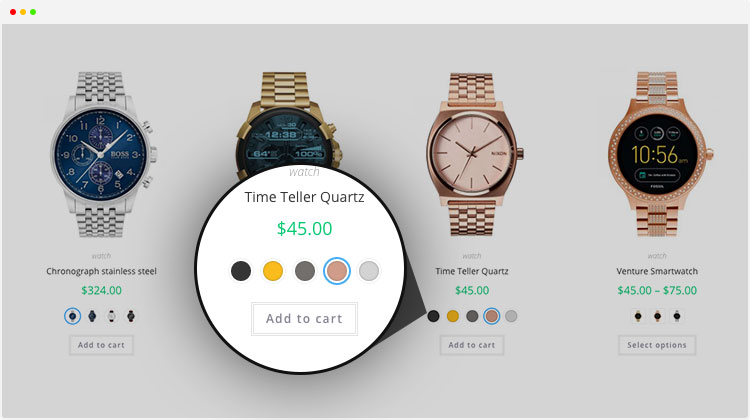 The product variation swatches have a text and image tooltip feature to make a website more reader-friendly.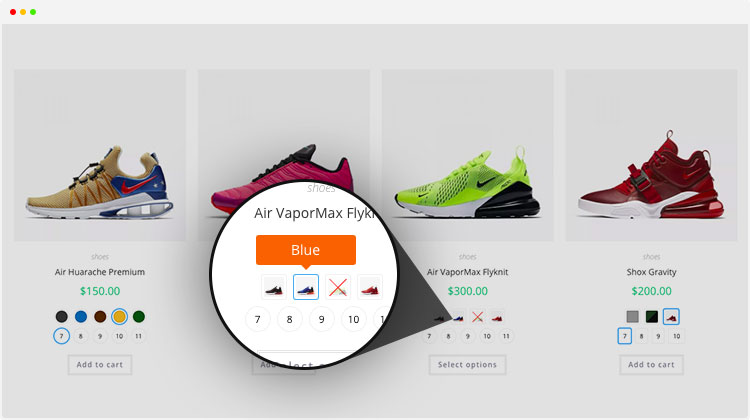 The dual Color feature of the Variation Swatches plugin allows you to insert dual color for a single variation. That means you can define it from a single variation when you have variable products with two colors.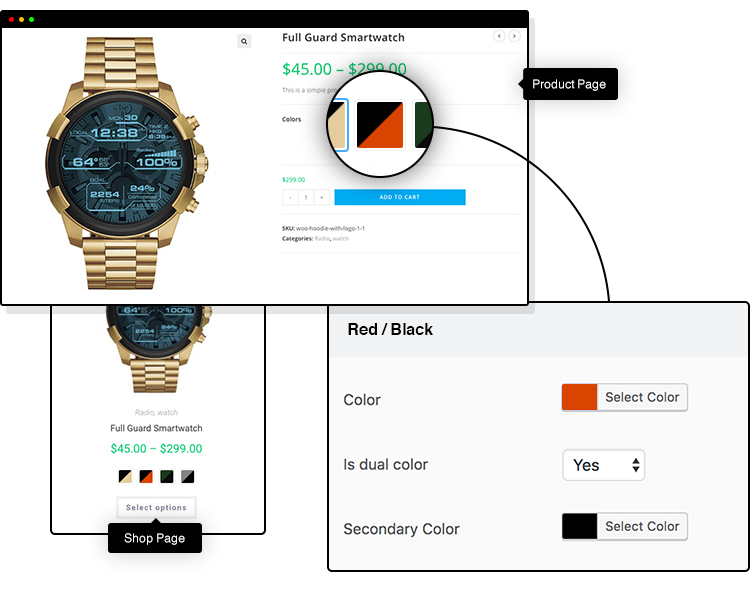 The tooltip feature lets users hover on the variation swatch and get a quick preview of the product. There are options for styling swatches such as rounded or squared attribute variation swatches shape.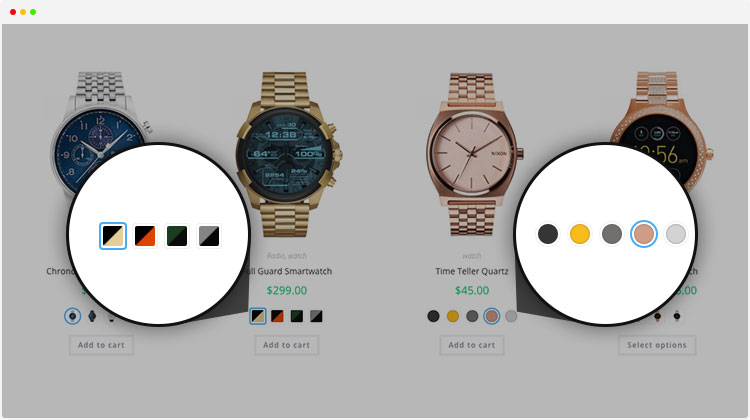 Showing out of stock variation seems unnecessary. The plugin offers an option to blur or hide the out of stock variation products.
A quick overview of the different features available in this swatch plugin:
Dropdown to Image, Color, Label, Radio Swatches
Display Swatch in Catalog / Archive Page
Text Tooltip in Catalog / Archive Page
Dual Color Variation Swatches
Supported With Quick View
Display Single Selected Attribute on Shop Page
Set More Link To Align Attribute Variation Swatches
Generate Variation Link
Product Based Swatch Customization
Highlight Your Special Attribute
Product page image or text tooltip
Variation Image Tooltip in Catalog / Archive Page
Auto Convert Dropdown Into Image Swatches (when variation has a featured image Set)
It is the only WooCommerce Swatches plugin in the market that runs on 200k+ websites. The plugin is compatible with major themes in the market, including Astra, OceanWP, Flatsome, Divi, and many more.
When it comes to features, the WooCommerce Variation Swatches for plugin comes with everything you would need to display variation swatches in your store.
Hence, the plugin helps enhance the customer's shopping experience and improve your online store's usability.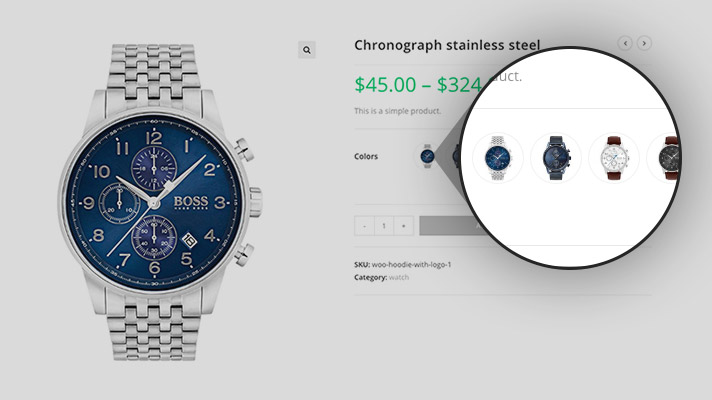 The second option in our list of WooCommerce Variation Swatches plugin is the plugin by Woo Swatches. It enables you to display and select various attributes.
With the help of this plugin, you can choose attributes like colors, images, buttons, and radio for variations products. The plugin helps to convert dropdown lists into swatches with just a couple of clicks.
The setting page of the Product Variation Swatches plugin allows us to customize all WooCommerce existing global attributes quickly. The features of this plugin help customers observe and find products more easily and efficiently.
Top features available in this swatch plugin:
Make image, label, color variation swatches
Convert dropdown type into beautiful swatches
Show the particular attributes on the product list
Customizing swatches profile
Display product variations swatches in the product list
You can easily install the WooCommerce Product Variation Swatches to display custom attributes of the variations products on the front end by the custom attribute option.
3. Variation Swatches for WooCommerce (by ThemeHigh)
Standing in the 3rd position in our top list is the Variation Swatches plugin built by ThemeHigh. The plugin lets you add swatches for variable product attributes in your WooCommerce shop easily.
The Variation Swatches for WooCommerce plugin comes with different styling options such as color, label, and text. It lets you add swatches for locally and globally added terms. Also, the plugin allows you to give more control over how your variation swatches outlook.
Some useful features of this Color Variation plugin:
Create image, color, and label for your variable product attributes.
Create swatches for both globally and locally added terms
Enable or disable Clear selection or reselection option
Compatible with most popular plugins
Supports additional CSS
This Color Swatches WooCommerce plugin lets you show the product attribute as radio buttons, and provide individual settings to override the global swatches settings.
4. Color and Image Swatches for Variable Product Attributes (Phoeniixx)
By using their WooCommerce Swatches plugin, you can generate color and image swatches to display the available product variable attributes like colors, sizes, styles, etc.
You can replace the drop-down fields with color and image swatches. Color and Image Swatches for Variable Product Attributes plugin is very straightforward to use.
Top features available in this swatch plugin:
Option to create Image Swatches.
Option to set swatch style as Square or Circle.
Works on variable products only.
Option to create unlimited Color Swatches.
Swatches can be stylized
Moreover, you can change the swatch shape style like squared and rounded swatch style. The Color and Image swatches plugin allows you to create unlimited swatches.
5. XT WooCommerce Variation Swatches
XT Woo Variation Swatches is a WooCommerce Swatches plugin that converts variation dropdowns into beautiful color, image, or label swatches.
This Woo Variation Swatches for WooCommerce plugin not only offers the color, image, and label attributes in the single WooCommerce product page. But also enables them within the catalog page as well as product quick view.
Useful features available in this swatch plugin:
Enable Catalog Mode
Support display in Quick Views
Attribute types: color, image, label swatches
Customize options for single product/archives page
Automatically convert Dropdowns to Label Swatch
This Variation Swatches WooCommerce plugin can also help you pick the right style for quick-add attribute right inside the editing product page.
6. C4D Woo Variation Images (Coffee4Dev)
C4D WooCommerce Variation Images plugin is easy to use WooCommerce product variation plugin. With the help of this WooCommerce Image Variation Images plugin, you can show your variable products in image, color, and label swatches.
Some features available in this swatches plugin:
Create attribute color swatches
Enable attribute image swatches
Create attribute label or text swatches
Work on variable product quick view
Flip Thumbnail on listing page
Moreover, you can set Nav thumbnail direction like vertical or horizontal and can change the thumbnail size with and margin.
7. WooCommerce Variation Master (MakeWebBetter)
WooCommerce Variation Master is a WooCommerce plugin that lets you implement variation swatches for products on your online store. You can show product variations for different products on your WooCommerce store using this plugin.
Top features of this WooCommerce plugin:
Change the variation dropdown with color swatches
Change the dropdown with image swatches
Let users update product variations on cart pages
Create and display responsive swatches
Display variation swatches on shop page
WooCommerce Variation Master will be the perfect choice for you if you are searching for variation displays of variable products for your WooCommerce store.
8. WooCommerce Variation Swatches (PluginEver)
WooCommerce Variation Swatches by Pluginever is an exciting WooCommerce tool for product variation swatches. The plugin allows you to display product variations with color, image, and text/label swatches for your variable products.
Some of the features of this swatch plugin:
Create color swatches for color attributes
Enable Image swatches for image attributes
Add text swatches for label/size attributes
Enable or disable the plugin default stylesheet.
Options to customize the tooltip
In addition, this WooCommerce Swatches plugin will allow you to enable or disable border style for swatches with custom color.
9. GS Variation Swatches for WooCommerce (GS Plugins)
GS WooCommerce Variation Swatches plugin is easy to use product variation swatches plugin for WooCommerce. The plugin offers an aesthetic experience to select attributes for variation products.
Enable attributes into images swatches
Create attributes into color swatches
Enable attributes into label/text/button swatches
Control attribute setting globally
Compatible with popular themes
Additionally, this WooCommerce attribute swatches plugin allows you beautiful tooltips on variation swatches on hover. You can enable and disable hover from the settings based on your requirement.
10. MAS Variation Swatches for WooCommerce (MardasThemes)
The MAS Variation Swatches for WooCommerce plugin will replace the default dropdown menu on your variable products with Color, Label, and Image Swatches.
Features available in this swatches plugin:
Enable attribute color swatches
Create attribute image swatches
Make attribute label/text swatches
Manage attribute globally
Allows new attribute swatch in the product editing page
This plugin enables you to add color, images, and label swatches to give your customers the ultimate experience on variation products.
Final Words
There's no doubt that you want to enhance your site's usability and deliver a better overall online shopping experience.
WooCommerce Variation Swatches plugin makes it easy for store owners to increase the visibility of variable products on their online shop.
Get ready to enhance your online store experience and grow your bottom line with the help of a best WooCommerce Variation Swatches plugin.