WooCommerce Variation Swatches
WooCommerce Variation Swatch is the most popular attribute variation swatch plugin in the WordPress plugin directory. The plugins is an awesome creation by GetWooPlugins team keeping in mind to create new experience for WooCommerce product variations.
WooCommerce Variation Swatch is simple plugin, but does wonderful job. It turns product attribute select dropdown into beautiful swatches. It means you can turn product variation selection dropdown into color, button, radio, and image swatches.
Consequently, the plugin enhance the plugin experience extensively. users don't need to reveal dropdown select field and see what variations are available for the variable product. Without pressing extra clicks and spending extra time, they can quickly select their desired variation.
Display Swatch in Catalog / Archive Page
To boost store conversion and engagement, Attribute variation swatches plugin enables swatch on the catalog page. It allows customers to check product variation from the archive page and add them to the cart.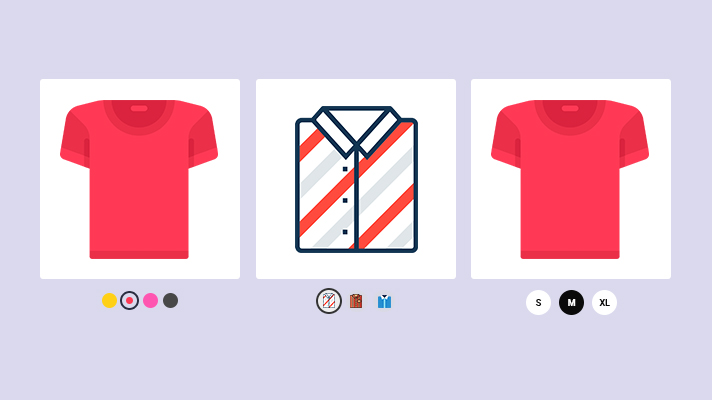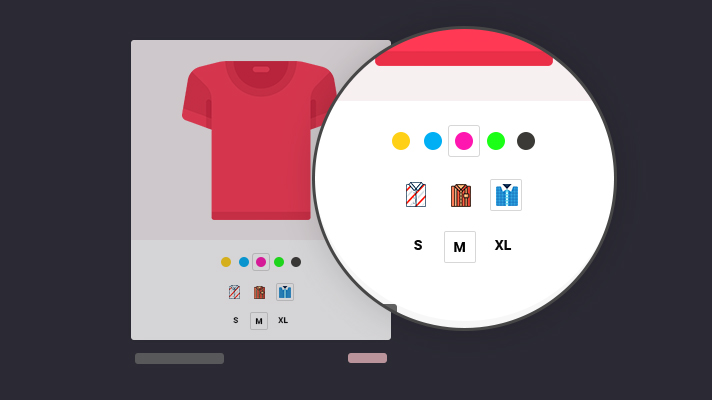 Product Based Swatch Customization
WooCommerce Variation Swatch plugin offers global swatches. If you need personalized variation per-product basis, you quickly achieve them from the site admin.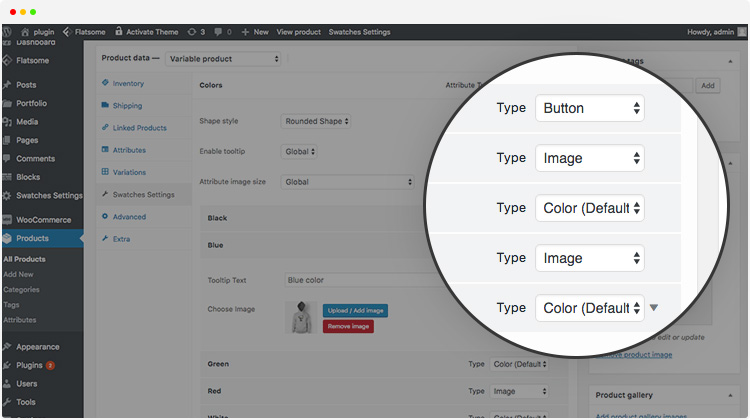 Beautiful Image Tooltip
Sometimes tooltip text is not enough to convince customers. In this case, Image tooltip do the rest.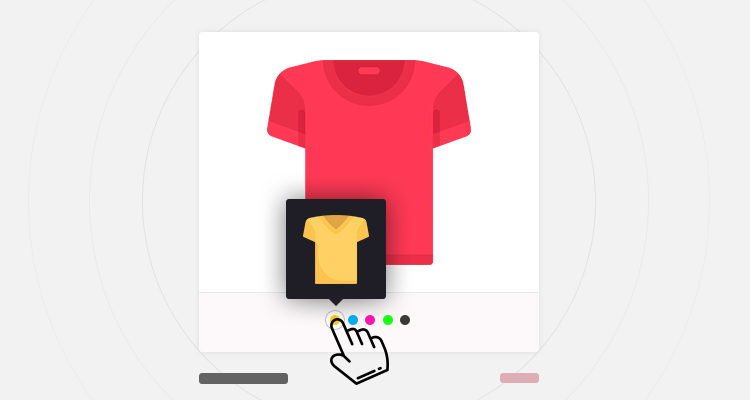 Customizable Tooltip Text and Background Color
Tooltip denotes the variation details to explain more. It can be disabled and customized the title text and tooltip background from the admin backend.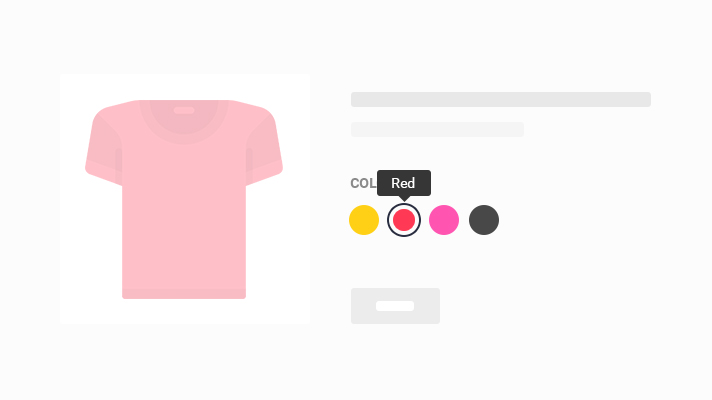 Tooltip Individual Text Customization
Default tooltip shows the globally set variation name. To show extra information beyond the default variation name, Tooltip Text field will give extra flexibility to add detailed variation information.
Radio Variation Swatch
Radio select box is another variation type to show product variations beautifully. It acts like the variations list for WooCommerce variable products.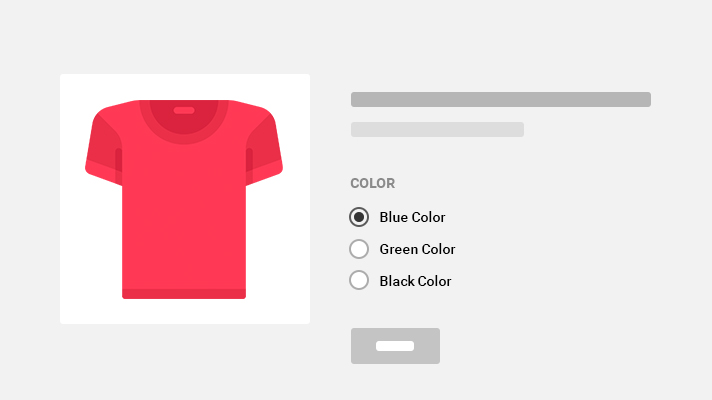 Color Variation Swatch
The option turns product select options drop down into color swatches. It's the best fit options for the variable products comes with multiple variations.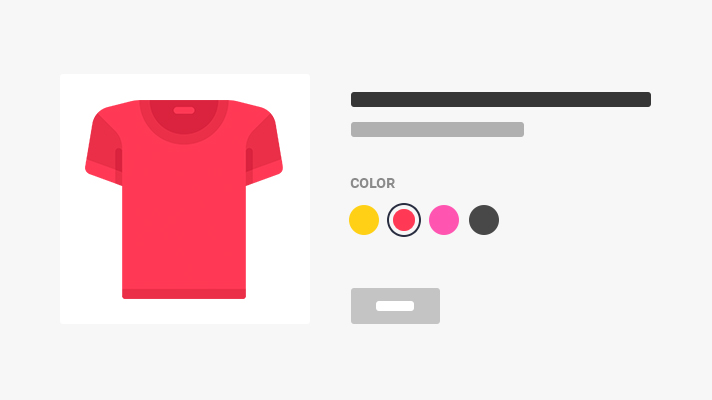 Image Variation Swatch
Images variation does more than color swatches. When it comes to display images as product variation, this option comes handy and highly engaging for conversion.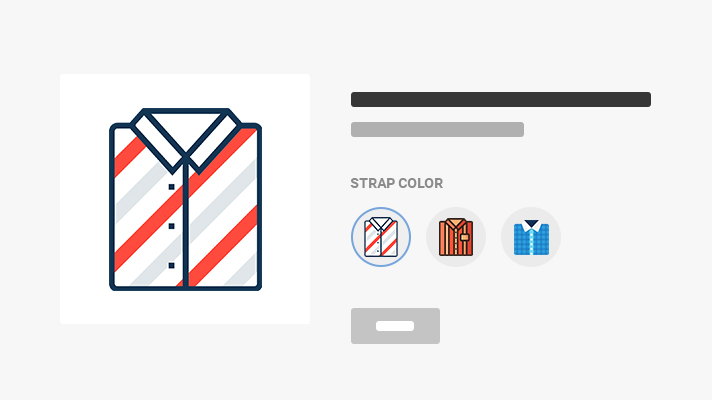 Integrated With Quick View
Besides showing swatches on product details page and archive pages, it can enable swatches on Quickview lighboxes to maximize store wide sales.
Button / Label Variation Swatch
When comes to show available product size, quantity and other variation related details, button/label swatch boost conversion extensively. It allows selecting customers to select their desired product variation quickly.
Rounded and Square Shape
The round and Square shape are one of the unique and helpful features of this plugin, when it comes to showing more than two or three characters in swatches, or want to add color and image swatch exclusively, you use Square shape instead of Round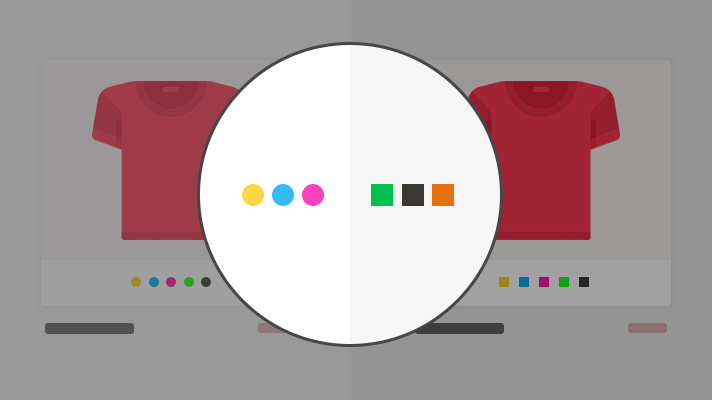 Blur/Hide Out of Variation
Showing out of stock variation seems unnecessary. So, the plugin offers option to blur or hide the out of stock variation to simplify in stock variation.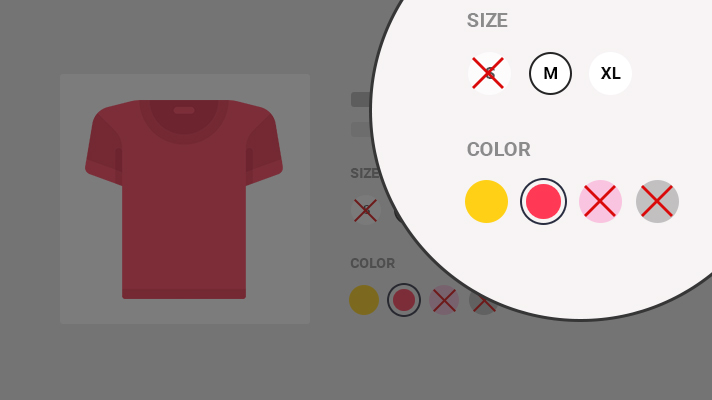 Multiple Image Per Product Variation
To insert a unique set of images per veriation, GetWooPlugin lunches free WooCommerce Variation Image Gallery plugin. It allows two extra images per WooCommerce product variation.
WooCommerce Variation Swatches not only offers the color, radio, image and label attributes in the single WooCommerce product. It also enables them in product quick view. If you're using WooCommerce themes like Flatsome that comes with default Quick View option, you don't need to hassle to load color and image swatches for variable product attributes in quick view separately.
In this WooCommerce attribute variation plugin, besides creating size, brand, image, color, and label variation swatches, you can handle the swatches shape style Rounded and Circle. On top of that, it allows you beautiful tooltips on variation swatch hover. Based on your requirement you enable and disable hover from the settings. To maximize and personalize your development process, the product attributes swatches comes an option to disable default plugin stylesheet so that you can personally write your own CSS.
Furthermore, you would find an option to hide and blur out of stock variation, set product image variation swatch sizes based on product image settings in theme, change tooltip background and text color.
WooCommerce Variation Swatch also enables/disable swatches product archive pages. The powerful option for this swatch plugins is variation swatch customization option for each product. It means besides addition global attribute variation for each variable product, you can customize them on your need for your desired products.
| Features | Premium | Free |
| --- | --- | --- |
| Display swatches in the catalog / archive pages. | | |
| Individual Product Base Swatch Customization | | |
| Swatches alignment | | |
| Tooltip Styling | | |
| Swatches item styling | | |
| Image tooltip | | |
| Item background color | | |
| Ajax/Non Ajax Variation display | | |
| Item border size | | |
| Work on variable product | | |
| Work on variable product quick view | | |
| Enable attributes into images swatches | | |
| Enable attributes into color swatches | | |
| Enable attributes into label/text/button swatches | | |
| Blur/Hide Out of Stock Variations | | |
| Control attribute setting globally | | |
| Compatible with popular themes and plugins | | |
| Option to select ROUNDED and SQUARED variation shape | | |
| Flexible tooltip insert and display settings | | |
| Option to disable default plugin stylesheet for theme developer | | |
Version 1.0.11
( 03/06/2018 )
Version 1.0.10
( 03/06/2018 )
IE-11 Fallback

Enable/Disable ajax variation option

Custom variation color/buttons tooltips

Divi woo layout injector issue.
Version 1.0.9
( 03/06/2018 )
Version 1.0.8
( 30/05/2018 )
StockHolm theme support

SelectBox class for more control
Version 1.0.7
( 27/05/2018 )
Enfold theme support

Tooltip image css
Version 1.0.6
( 26/05/2018 )
Tooltip image

Item border size

Item background color

OceanWP archive page list view
Version 1.0.5
( 21/05/2018 )
Visual improvement

Some known issue
Version 1.0.4
( 20/05/2018 )
Visual improvement

Flatsome Theme Shortcode override
Version 1.0.3
( 19/05/2018 )
OceanWP Theme Compatibility

Sober Theme Compatibility

Shophistic Lite Theme Compatibility

Old Haven Theme Compatibility
Version 1.0.2
( 18/05/2018 )
Variation Item border color, Text color

Swatches display position

Known js issue
Version 1.0.1
( 25/04/2018 )
Archive Page Font Size

Flatsome theme archive position

Individual product display type
Version 1.0.0
( 20/04/2018 )
Purchase a Licence
The purchase entitles you to 1 years updates and support. Your subscription will auto-renew each year unless cancelled.
WooCommerce Variation Swatches