It doesn't matter how exceptional your products are, if your shop pages are poorly crafted they won't sell. You have to convince visitors to take a chance on them on the shop page. A shop page can make or break an eCommerce business.
With the help of WooCommerce Variation Swatches plugin, you can show all selected attributes on the shop page or entire attributes on the single product page.
Enable Variation Swatches on Shop/Archive Pages
This feature improves the standard of variations and attributes. It is another great premium feature of the WooCommerce Variation Swatches plugin.
Adding color variations is one of the best ways to bring more life into your product page.
On the other hand, when you add image variation swatches, it provides a pleasant way to display variations of a product.
Make sure you have the WooCommerce Variation Swatches Pro plugin besides the free version.
You can enable Swatches before and after add to cart button even in Flatsome theme.
Steps to enable this setting:
Navigate to Swatches Settings
Click on Archive/ Shop button
You'll get Show swatches on the archive/shop page.
Just check the settings.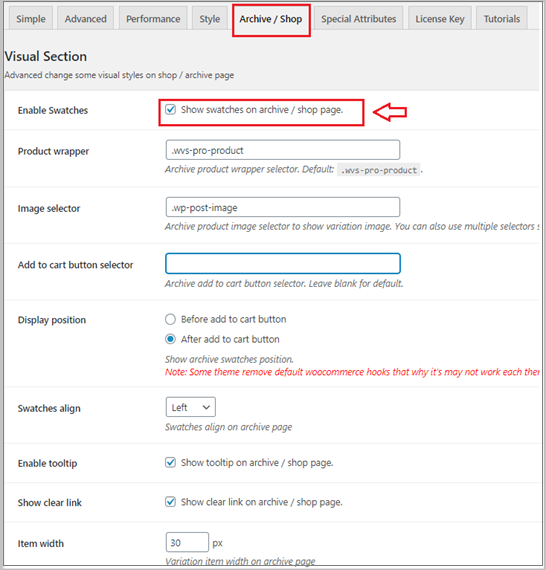 When desired options from the available product will be selected, it'll appear like the following screenshot.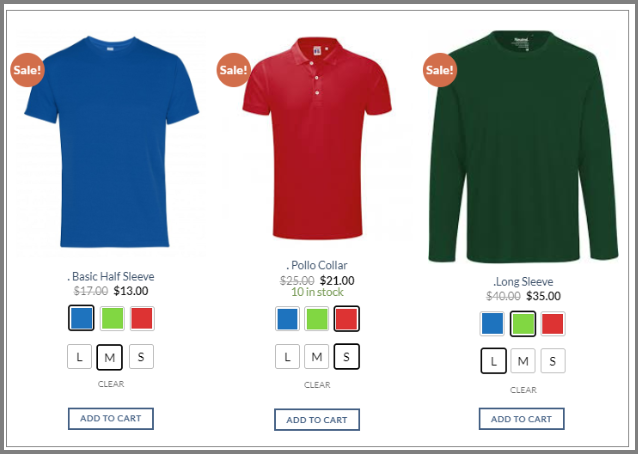 When you are running a WooCommerce store, you know the importance of a shop page. It is not only must-have, but they are also arguably the most important page for an online store. A shop page can make or break an eCommerce business.
WooCommerce Variation Swatches plugin features help add awesome features to attract your shop page. For that, you can expect more visitors and increase your store sales.
For showing single WooCommerce product attribute variation swatches on the shop or category page. You can read my previous tutorial on selecting single attribute on the product page.