Additional Variation Images Gallery For WooCommerce
When it comes to displaying multiple images for WooCommerce product attribute variation to drive sales and conversion, WooCommerce Additional Variation Images Gallery plugin is incredible to option to pick.
WooCommerce comes with a basic option to insert a single image for a product variation. It means, there is no option to insert more than a single variation image when it highly essential to sell your product.
To boost the power and flexibility to use WooCommerce, WooCommerce Additional Variation Images Gallery plugin is here. It allows you to upload multiple images for each product variation. It means with the help of this feature you can show a different set of images to your visitors when the switch product variation like Color, Style, Size at the same time.
If you are looking for a plugin to insert multiple images per variation for Woocommerce variable product, you are in the right place. The plugin is well-documented and optimized to support major WooCommerce theme in the market.
Key Features of WooCommerce Additional Variation Images
Woocommerce Variation Images is the highly must have feature of a store. It helps shop owner to present in-depth details of his product variation inserting unlimited product variation related images. To make your variation image presentation artistic and awesome, we added a couple of useful features that allow you to boost your product conversion.
Display Unlimited Variation Images Per Product Variation
With default WooCommerce, you can insert only a single image additionally. WooCommerce Additional Variation Images Gallery plugin brings an option to insert unlimited images for each WooCommerce product variation.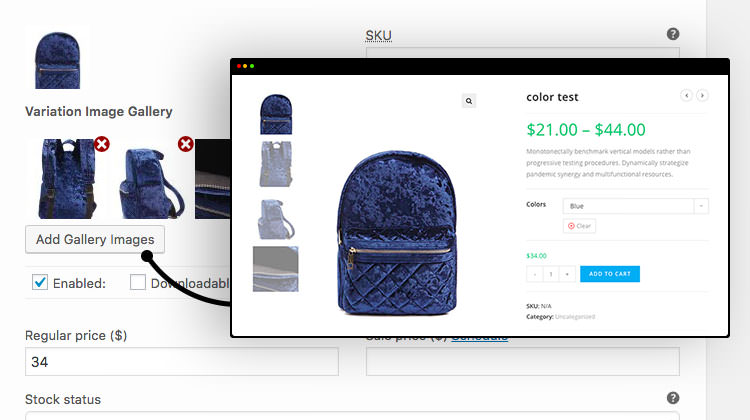 Display YouTube, Vimeo, Hosted Video Per Product Variation
Besides adding extra images per WooCommerce product variation for product image gallery, with this plugin, you can insert unlimited YouTube, Vimeo and Self Hosted videos with ease.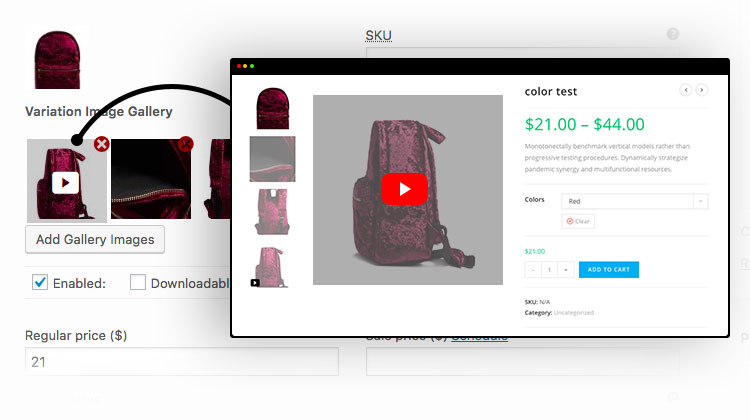 Responsive Attribute Variation Image Gallery Width
WooCommerce Additional Variation Images Gallery plugin is smartly coded and comes packed with an option to specify width for large, medium, small and extra small devices. It means you can control gallery width based on your site viewing devices.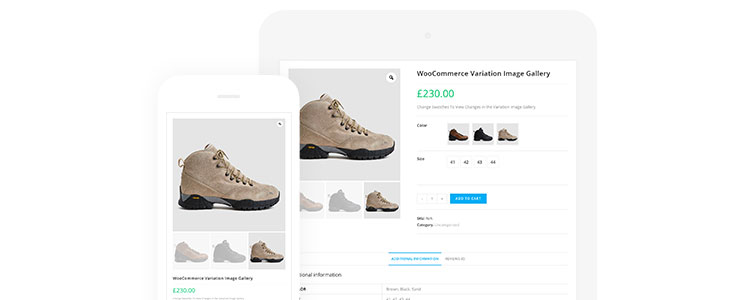 Multiple Image Selection While uploading Variation Images from Media Gallery
When you insert images for your product variation image gallery, it allows to select unlimited images each time. Say goodbye to one image selection for each time.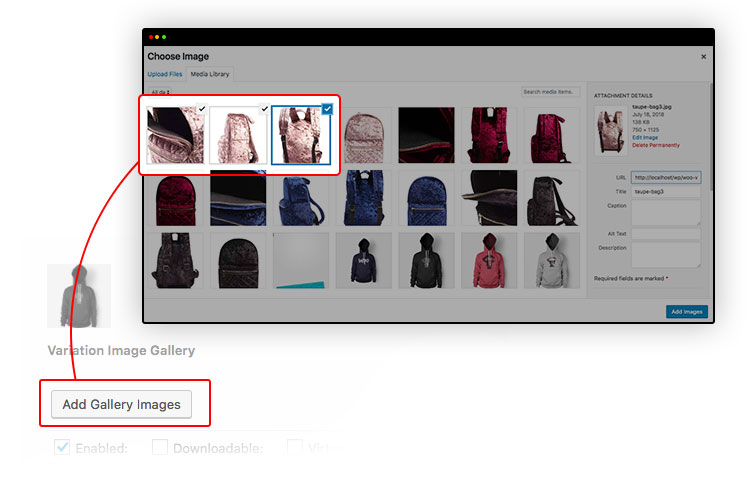 Automatic Gallery Image Slide
With WooCommerce default, customers have to manually change the gallery image to view corresponding variation images. With WooCommerce Additional Variation Swatches plugin, gallery will slider automatically so that customers can see product additional images without manually changing them.
Variation Video Width and Height
The gallery dimension of each image gallery may not the same. When you insert video for your variation gallery, it may create a black area in the top and bottom. To solve this situation, we added an option to specify variation video width and height.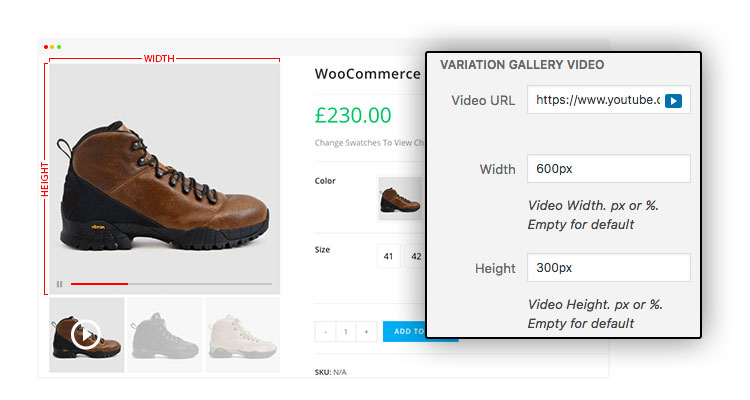 Gallery Width and Bottom Gap Control
The additional variation images plugin for WooCommerce comes packed with impressive settings to impress your visitors. It allows controlling gallery width and gallery bottom gap between thumbnail. Which helps you to place variation images according to your theme website theme design.
Left, Right and Bottom Gallery Thumbnail Display Control
Default WooCommerce comes with product variation gallery with bottom thumbnail feature. WooCommerce WooCommerce Extra Variation Images Gallery plugin has also extended the feature. It allows you to control the gallery thumbnail position to left, right and bottom.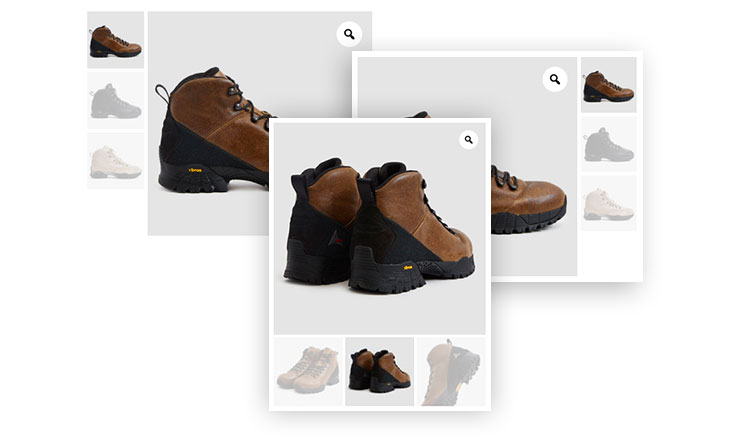 Enable Thumbnail Slide
Variable product attribute variation image gallery can be displayed in slider or show all thumbnails picture in grid one after another. With this plugin, you can go for the either feature you want.
Thumbnails Item Number and Gap Control
Thumbnails are one of the crucial features of smart variations images gallery plugin. It allows specifying how many pictures you want to show in a single thumbnail slider from 4 to 8. Furthermore, it let to specify gaps between thumbnails.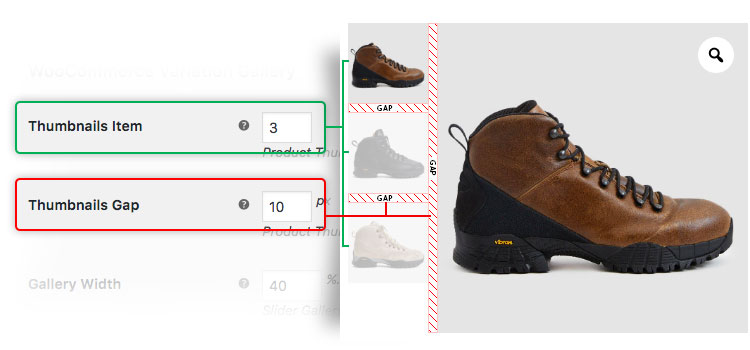 Slider and Thumbnail Slider Arrow Control
The WooCommerce variation images gallery plugin consists of two parts, the main image part, and the thumbnail part. Both parts come with a slider with option to enable and disable image sliding slideshow indicating arrow.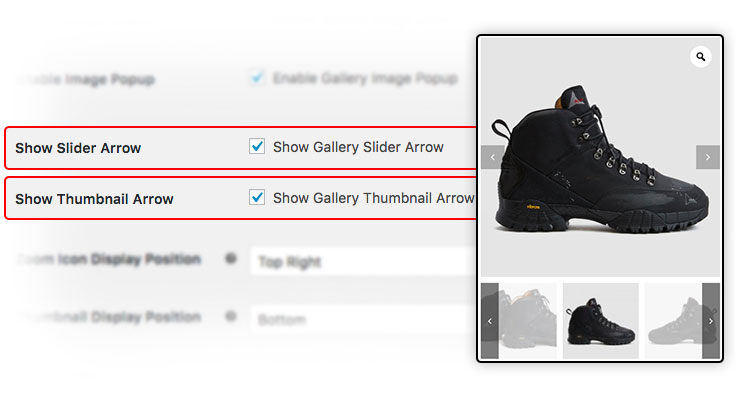 Product Variation Image Zoom
Zoom is on of the important feature high-converting product image gallery. To boost your sales and conversion, WooCommerce Extra Variation Images Gallery plugin ships packed with the product featured image zoom option. You can disable the zoom option on your need.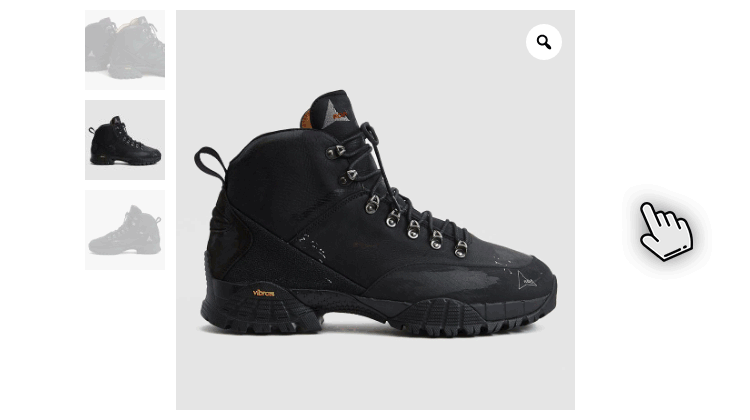 Popup Icon Display Position
If you have already install WooCommerce Additional Variation Images plugin activated, you can notice it shows a zoom icon at the right top corner of the screen by default. You can change its position from the plugin settings.
Enable Main Image Popup
The zoom feature of WooCommerce Extra Variation Images Gallery plugin allows store customers to view product variation images in Zoom view. Apart from that, it offers popup option so that customers can view product images in an exclusive screen.
Gallery Image Shorting Option
Sorting option is an incredible port of this WooCommerce Additional Variation Images Gallery plugin, it allows you to reorder variation images after uploading it. It means you can decide the order of the variation image display in the gallery.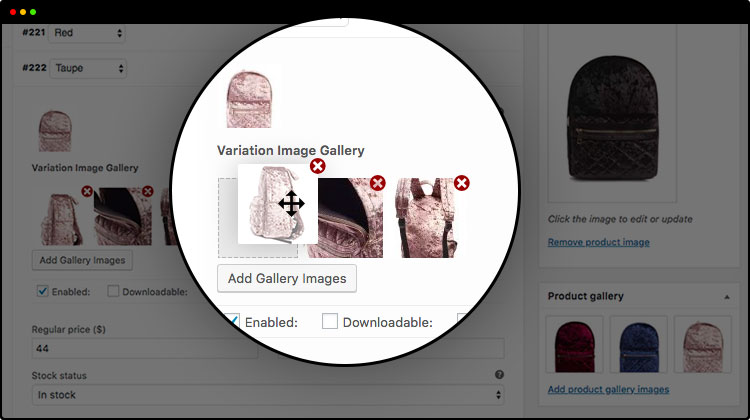 Features at a glance
Gallery Image Select Option
Gallery Image Sorting Option
Unlimited Image Choose option
Self Hosted Gallery Video Support
Video Zoom and Lightbox.
Automatic Updates.
Exclusive Technical Support.

| Features | Premium | Free |
| --- | --- | --- |
| Gallery Image Select Option | | |
| Gallery Image Sorting Option | | |
| Unlimited Image Choose option | | |
| Self Hosted Gallery Video Support | | |
| Youtube Video Support | | |
| Vimeo Video Support | | |
| Gallery Video Popup Support | | |
Version 1.1.19
( 18/09/2019 )
Version 1.1.18
( 18/09/2019 )
Version 1.1.17
( 17/09/2019 )
Gallery added WooCommercee REST API Response
Version 1.1.16
( 27/08/2019 )
WooCommercee REST Api Issue
Version 1.1.15
( 20/08/2019 )
Version 1.1.14
( 24/07/2019 )
Selected vatiation image load

Closeable update notification
Version 1.1.13
( 23/05/2019 )
WooCommerce active notice issue

Filter too modify template

WooCommerce 5.2 support
Version 1.1.12
( 08/04/2019 )
Language issue

Auto slide added

Tutorial tab added for guideline
Version 1.1.11
( 01/01/2019 )
Empty image srcset issue

ROYAL Theme Support
Version 1.1.10
( 10/12/2018 )
Ajax load

Support Latest woocommerce and wordpress
Version 1.1.9
( 08/11/2018 )
Add script disable filter

Add customify theme support
Version 1.1.8
( 20/10/2018 )
Version 1.1.7
( 07/10/2018 )
Elementor pro support

Saha theme support

Preloader style option added

Gallery export-import added

Gallery responsive width option
Version 1.1.6
( 30/09/2018 )
Preload blur style

Backend JS Small Image Issue

HTML5 Video Preload
Version 1.1.5
( 26/09/2018 )
Preload variation images to quick load.

Reset gallery option on select variation
Version 1.1.4
( 25/09/2018 )
First time loading and single product gallery issue
Version 1.1.3
( 19/09/2018 )
Lazyloading image issue on slow net
Version 1.1.2
( 19/09/2018 )
Version 1.1.1
( 16/09/2018 )
Gallery image loading issue.
Version 1.1.0
( 10/09/2018 )
Version 1.0.0
( 11/07/2018 )
Additional Variation Images Gallery For WooCommerce