WooCommerce Variation Image Gallery
When it comes to displaying multiple images for WooCommerce product attribute variation to drive sales and conversion, WooCommerce Variation Image Gallery plugin is incredible to option to pick.
WooCommerce comes with a basic option to insert a single image for a product variation. It means, there is no option to insert more than a single variation image when it highly essential to sell your product.
To boost the power and flexibility to use WooCommerce, WooCommerce Variation Image Gallery plugin is here. It allows you to upload multiple images for each product variation. It means with the help of this feature you can show a different set of images to your visitors when the switch product variation like Color, Style, Size at the same time.
If you are looking for a plugin to insert multiple images per variation for Woocommerce variable product, you are in the right place. The plugin is well-documented and optimized to support major WooCommerce theme in the market.
Display Unlimited Variation Images Per Product Variation
With default WooCommerce, you can insert only a single image additionally. WooCommerce Variation Image gallery plugin brings an option to insert unlimited images for each WooCommerce product variation.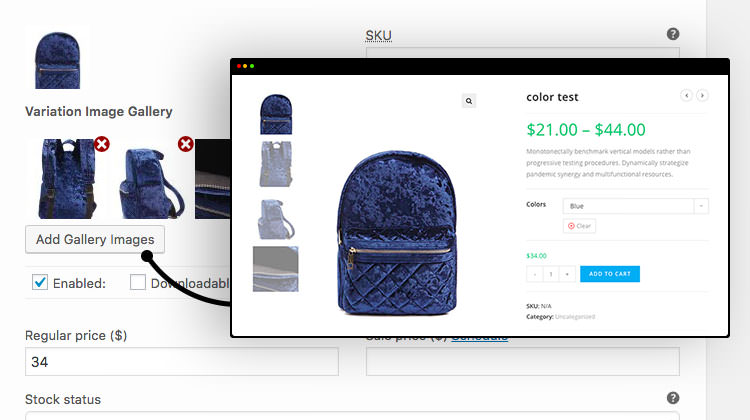 Display YouTube, Vimeo, Hosted Video Per Product Variation
Besides adding extra images per WooCommerce product variation for product image gallery, with this plugin, you can insert unlimited YouTube, Vimeo and Self Hosted videos with ease.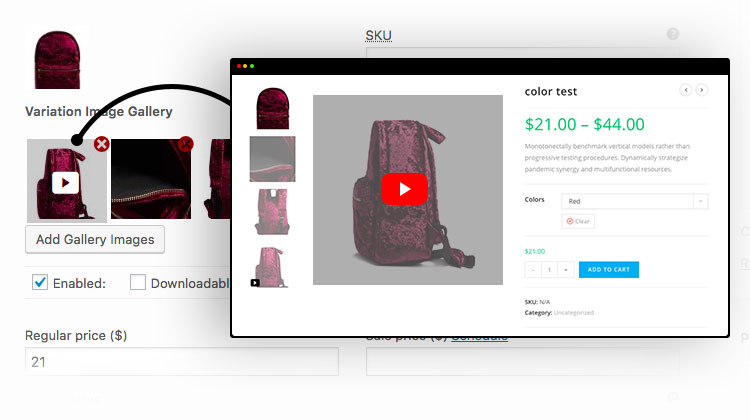 Gallery Image Shorting Option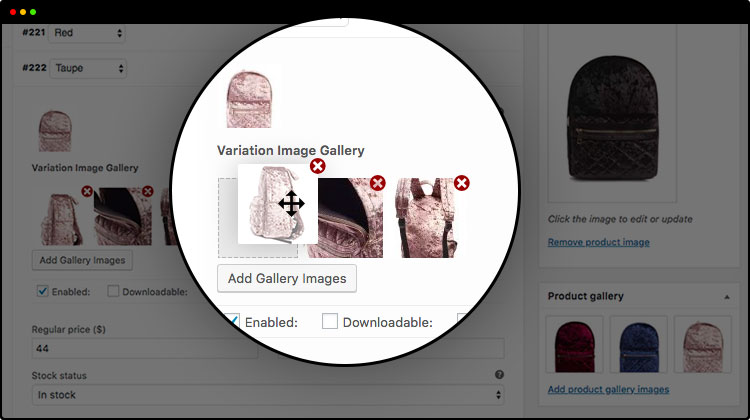 Features at a glance
Gallery Image Select Option
Gallery Image Sorting Option
Unlimited Image Choose option
Self Hosted Gallery Video Support
Video Zoom and Lightbox.
Automatic Updates.
Exclusive Technical Support.
| Features | Premium | Free |
| --- | --- | --- |
| Gallery Image Select Option | | |
| Gallery Image Sorting Option | | |
| Unlimited Image Choose option | | |
| Self Hosted Gallery Video Support | | |
| Youtube Video Support | | |
| Vimeo Video Support | | |
| Gallery Video Popup Support | | |
Version 1.0.0
( 11/07/2018 )
WooCommerce Variation Image Gallery